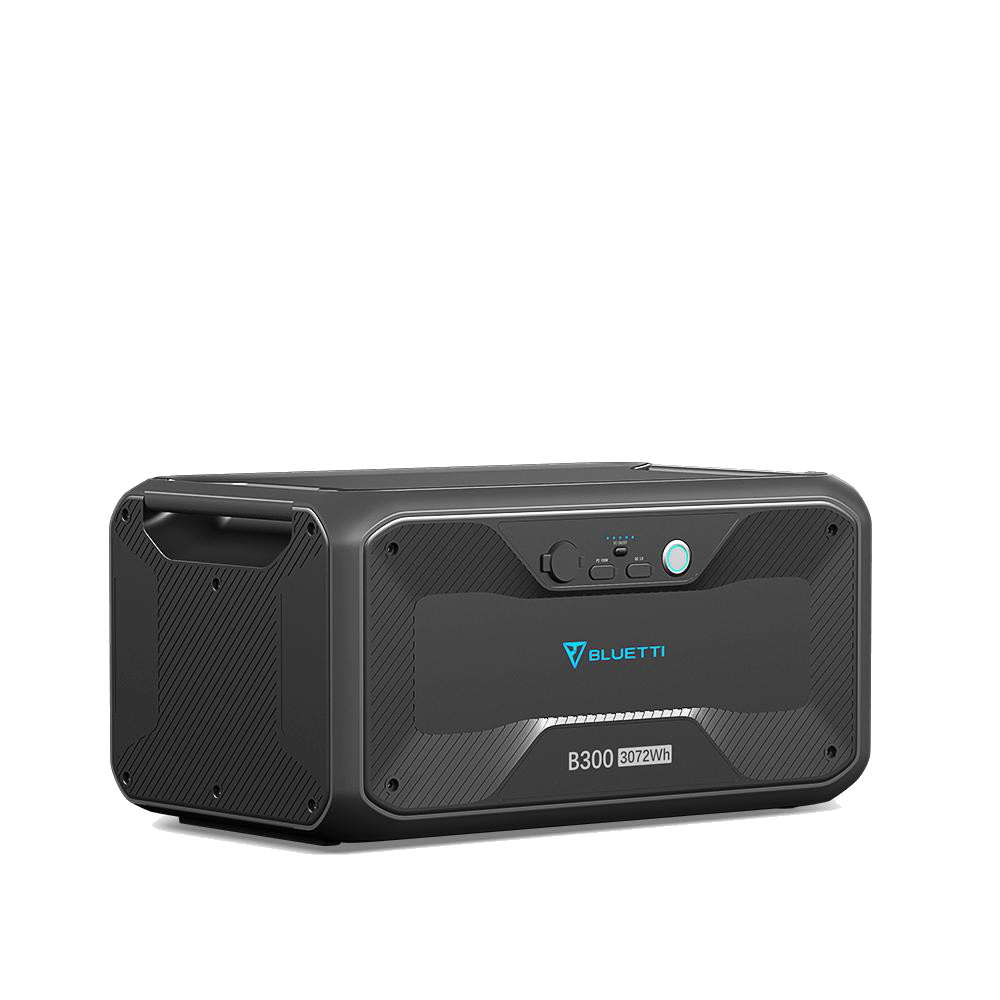 Bluetti B300 Battery
Bluetti Battery Expansion 3072 Wh
Connect up to 4x 3072 Wh Battery Power
BATTERY INFO
Capacity: 3,072Wh (51.2V, 60Ah)
Type: LiFePO4 (Lithium Iron Phosphate)
Life Cycles: 3500+ Cycles to 80% Original Capacity
Shelf-life: Recharge to 80% Every 3-6 Months
Management System: MPPT Controller, BMS, etc.
OUTPUT
USB-C Port: 1 x 100W Max.
USB-A Port: 1 x 18W USB-A
12V DC Outlet: 1 x 12V/10A (Car Outlet) All Regulated.
INPUT
AC Input: 500W Max.
Solar Input: 200W Max., VOC 12-60VDC, 10A
Car Input: 12/24V from Cigarette Lighter Port
Max Input: 700W, With AC Adapter + Solar Input Simultaneously
RECHARGE TIME
AC: ≈ 6.5~7 Hours at 500W
Solar: ≈ 15.5~16 Hours at 200W
(With prime sunshine, ideal orientation and low temperature)
12V/24V Car Outlet (100W/200W: ≈ 30 or 15 Hours
AC + Solar: ≈ 5 Hours at 700W
(With prime sunshine, ideal orientation and low temperature)
Solar + Solar: ≈ 5 Hours at 700W (D050S DC Charging Enhancer REQUIRED)
Dual AC: ≈ 5 Hours at 700W (Extra adapter D050S REQUIRED)
GENERAL
240V Split Phase Bonding: Yes, work with AC300, in EU/CH/RU only double of Wh Capacity
Pass-through Charge: Yes
Weight: 79.6lbs (36.1kg)
Dimensions (LxWxD): 20.5 x 12.5 x 10.5in ( 52 x 32 x 26.6cm)
Operating Temperature: -4-104℉ (-20-40℃)
Storage Temperature: -4-104℉ (-20-40℃)
Certifications: UL Standard, CEC, DOE, FCC, CA Prop 65
Warranty: 48 Months
Downloads