qTeamsMeet 3.0 released | Release notes
qTeamsMeet has been enhanced to include new features both for integral solution from within the qTeams.io app, as well as from the webinar console...
qTeamsMeet has been extended both for integral solution from the qTeams.io app, as well as from the webinar console on new features that our SME customers have brought to us, what they would like to have, which can be used with any modern web browser without additional download:
Presentation Layout Modes
Custom Layout
Automatic layout
Presentation in the center
Distribute custom layout to all attendees
Distribute automatic layout to all participants
Distribute presentation in the center to all participants
Distribute video in the center to all participants
The new presentation mode, which we already had once in 20212 in the (ancient) Flash application, has been ported to HTML 5 with CSS3 and allows professional presentation mode to be dynamically distributed to all participants to focus on what is being presented.
Video & Audio Enhancements
Video conferences allow each participant to choose a virtual background
Video image transmission of a participant: mirror, or fix on top
Audio and video settings for hardware sources can be changed during the meeting without reconnecting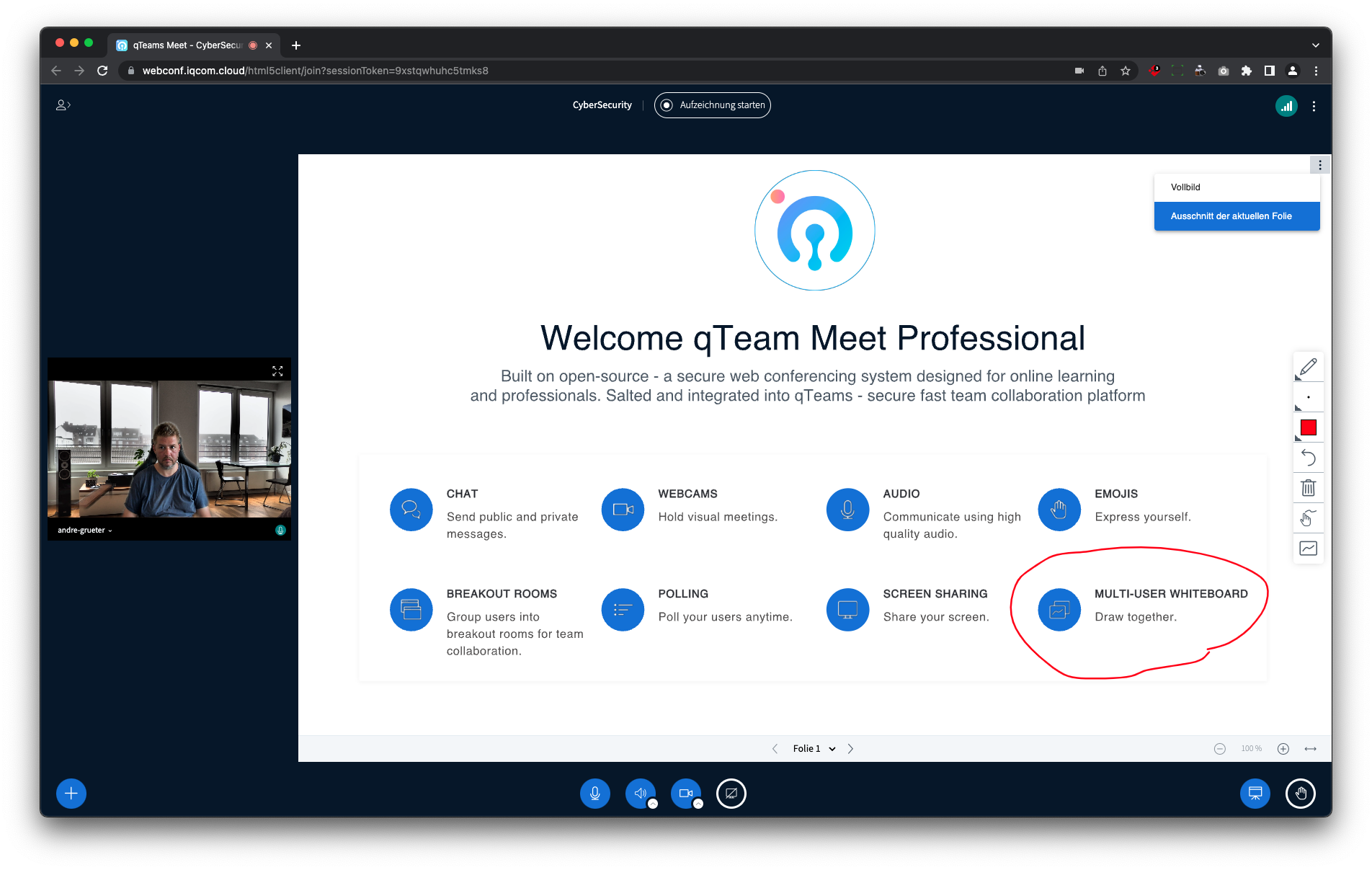 Presentations
Download a slide of your choice with annotations
Show and hide presentation window (if allowed)
Raise your Hand improvements
When a participant raises a hand, it is displayed to moderators and presenters with a modal fade-in. If the participant is connected with video, it is visible in his video image as status, as well as in the sidebar of the participant overview.
General notifications revised
New participants and interactions are notified to moderators and presenters with a modal fade in that automatically disappears after 5 sec, or can be clicked away.
New Presenting Dialog Options
Share now any Video to Audience allows any kind of Video URL, with a MIME ending of .mp4 and also allows to share any PeerTube Video by URL, before only YouTube Videos could be shared.
Switch easy between Uploaded Documents
Survey/Poll User Interface enhancements
Select randomly/shuffle next Presenter, ideally in Conversation Groups or Learning Sessions
Revised list of participants
Participants are displayed with additional icons about activated hardware, e.g. webcam, headset
Status is shown in the video window
Set status
Participants can put status about emotions, thumbs up, confused, raise hand, etc. Emoticons Options got extended
If a participant changes his status, a modal fade in is presented to the presenters / moderators as notification
It is displayed in the video chat at the participant
Moderator / Presenter can delete all User status at once
Participant settings
Guest access rules
Guest access rules, which can be set for non-code protected rooms adhoc (adhoc meetings) and the invitation URL is visible in the meeting:
Ask Moderator
Always accept
Always refuse
Save participant names
Saves all attendee names for export as CSV, ideal for training seminars where an attendance confirmation is to be given to the client.
Restrict participant rights
Show / hide webcam
Show or hide other participants webcams
Enable microphone
Allow / disallow public chat messages
Allow / disallow private chat messages
Show participant list for others
Sow cursor / or hide for other participants webcams
Improvements in connection status info
Clean display of used protocols, if supported by the browser, for video, audio and streams as well as their bitrate (TX/RX)
Enhanced Full-screen Mode
Full screen displays now scale to 34:9 inch wide screen displays Function icons for interaction are displayed when the mouse is moved.
Group rooms extension
Group rooms for individual workshops, onboarding or learning rooms, to which participants can be assigned either manually, by the participant himself or randomly to participate together in documents or discussions, was extended to include the
Learning Dashboard
Participant interactions, visits to the subsequent workshops can be evaluated accordingly. Ideal for learning groups, onboarding or discussion groups.
Feedback from our qTeamsMeet survey on what users like most about our Webinar- Webmeet and Conference solution (top 3 answers):
Excellent audio quality, which outperforms other solutions
Even with multiple video participants, audio and video are synchronous
No download necessary, easy to use in the web browser
Live Streams of Keynotes
Live streams of keynotes up to 1 million concurrent attendees, as always, must be pre-registered so that we can provide the live stream accordingly with our CDN.
We are excited to share with all qTeamsMeet users the new features that can be used immediately and wish: Happy Meet & Share!