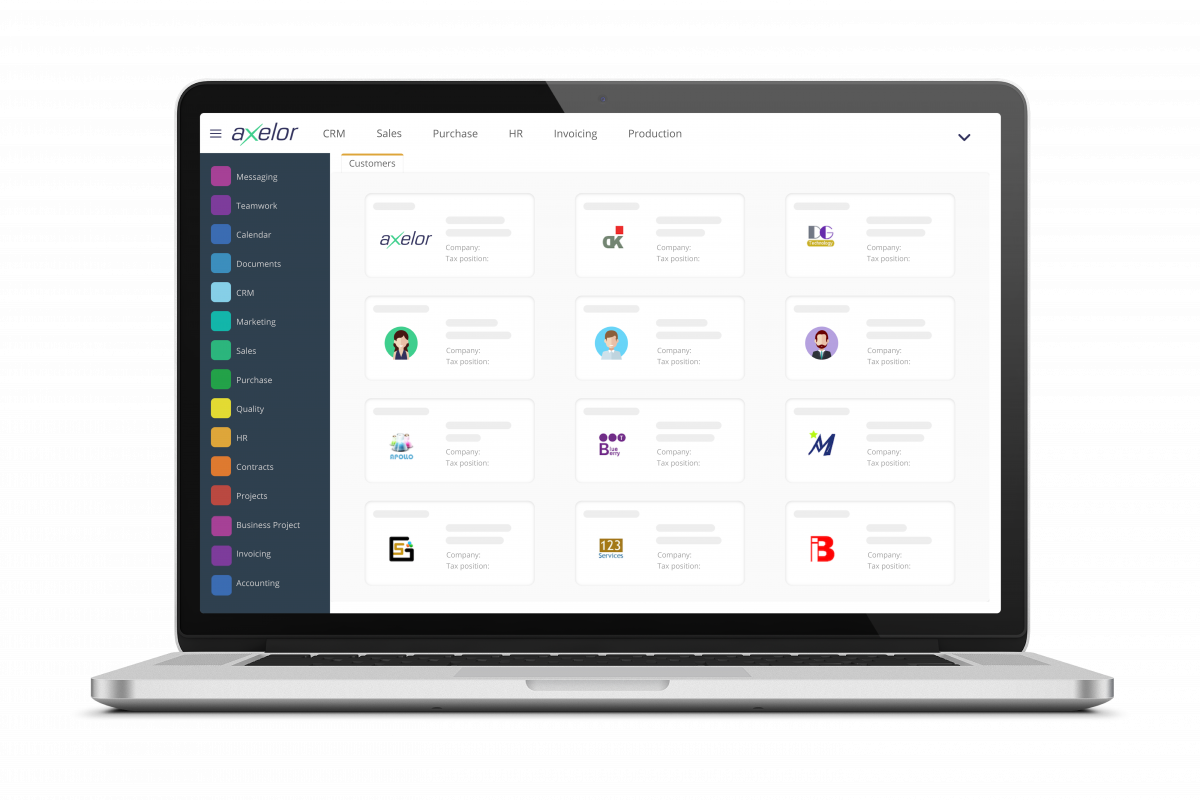 A Powerful Solution for Medium-Sized Businesses and Above
iQcom relies on the Axelor Enterprise ERP/CRM & BMP solution and has just released the German localization for this powerful business software, which is slightly below SAP, but above all other business software solutions available on the market.
The Axelor solution enables start-ups with only a few modules up to multi-national corporations to automate their processes in a legally compliant manner. Designed with a built-in App Store, which in a 1-click manner, provides additional functions quickly and easily, except for the necessary configurations.
Axelor's integrated accounting is IFRS certified, an international standard for companies that have international subsidiaries and need to reflect this accordingly in their accounting, as a holding or parent company.
The built-in App Studio and BPM Modeler also allow process automation to be designed and controlled across all business units including the API interface, even those that require confirmation from a department manager before the data set can be processed further.
Excellent implemented is also the possibility to enter corresponding budgets via departments/sites/subsidiaries and teams, also to track them with thresholds, alarms, both for sales, human resources and procurement.
Complemented by the built-in cash flow management, Axelor users really have in their hands, at a flat license price, a powerful business process management software that is second to none in the global market.
iQcom & Axelor – A journey report
Around 18 months ago, iQcom opted for this open source solution because it was one of the few solutions available on the market that covered its own catalog of requirements. At least in theory.
When we started with Axelor, in version 6.0, the French were busy rewriting their own application and SDK framework and this led, as one can understand given the complexity of this solution, to a flood of disfunctional system components, along with a plethora of bugs that strained time and nerves on both sides.
In this transitional phase, a total of 160 bug tickets were filled by our side, which made us wait for 2 months until we could generate invoices via the system again. It should be noted that after we set up the system properly, we only mapped 50 customers to it, and left all other customers running in parallel on the old system. This is due to the experience of some of our team members, who previously worked as business analysts and debuggers for other ERP software vendors.
This decision was the right one, although it involved an enormous effort; anything else would probably have deprived the company of its livelihood.
Of course, internal voices were also raised to cancel the system introduction after more than a year, because the software manufacturer could neither keep to its own roadmap nor deliver holistic solutions to problems within a reasonable period of time. But you also have to have the appropriate vision when it comes to big things. And Axelor is a big thing.
Axelor founded in 2005, has received 10 million euros in venture capital in the summer of 2022 to complete the new Low Code Framework Transition, which has been ambitiously in the works for nearly 2 years.
Low Code. BPM. ERP. CRM. DMS. API
The Low Code Framework
Axelor's Low Code Framework enables what many other business software vendors promise but fail to deliver. Fast and efficient customization of modules, data forms, reports and displays. And this is the future, because in the final analysis, the choice of a business solution is not only determined by the already existing range of functions, which basically comes as close as possible to one's own catalog of functional requirements, but how quickly and efficiently one can adapt the necessary workflows in the manufacturing processes of a production environment, or in the provision of services, in a targeted manner with maximum cost efficiency, and also prepare this data easily for the employees and management.
Axelor is clearly ahead in a worldwide comparison of business software solutions. And by years.
And that's not just saying it: Every year we compare 30-40 solutions available on the market over a period of 2 months, more or less as a hobby after business hours, and not least because it is a very dynamic market, which affects all SMEs due to the advancing digitalization, which have an interest in being as efficient as possible in the future, but also because we are often asked for recommendations.
And we don't recommend anything based on "hearsay" but like to get a first-hand impression. And we can note that we have had a few customers in the past where our system recommendation also brought problem relief for the company concerned.
The new customer-, partner- and supplier-portal from iQcom
One of our main concerns was to influence the redesign of the customer portal, the partner portal and the supplier portal, which goes far beyond helpdesk tickets and project management. We have succeeded in doing this with Axelor. And a compliment should also be paid to this:
From a good 38 feature requests we placed, the Axelor team saw the benefit in it for all their customers and it was implemented according to our ideas. Among them also Swiss or German features.
Instead of writing a separate novel about the features, we created a 16-minute video tour that only scratches the surface, but lets you see it from a customer/partner's point of view:
Our supplier portal, where we send out requests for quotations, works in a similar way. Suppliers can specify their availability and add delivery information and product tracing IDs (RFID tags) to their orders, which are then automatically included in the corresponding freight transport of the selected logistics provider.
An already often used function is also the possibility to manage OEM. It is possible to assign an own product catalog to major customers as well as to suppliers, which displays the own products and SKUs in the order and sales management including the print documents of their SKUs and product designations, supplemented with price lists. And all this very efficiently linked with several options and conditions. Here Axelor has managed well to reduce the complexity in the user interface without cutting back on the possibilities of the configurations.
An old adage in the design of software solutions says: Keep it simple because I'm stupid. Therefore, you need to reduce the minimum of data entries a user is forced to, but keep the balance to get the most valuable information out.
The built-in warehouse management and product management, which in addition to products can also manage services with versioning, protopying and launch by version, as well as internal storage locations / shelves and pallets this does for outsourced storage locations (Outsourced Order Fullfilment), is unparalleled, both in the open source as well as in the proprietary area of business software solutions.
Backorder management is included as well as many other niceties.
Besides bilateral contract management, engagement time and subscription billing with optional consumption billing, e.g. minute charges or transit traffic in our case, up to one of the most powerful project management solution we have ever glimpsed, almost no wishes are left open.
Gantt views allow for planning changes and are also output on the PDF printout as displayed on the screen. Projects can either be billed in advance, used for costing and quoting, or billed on a time sheet basis, linked to contracts, expenses and procurement, team enabled, and of course, in addition to purchasing and sales templates, entire project templates and task templates, not only nested, but also attached to a sales item, which upon acceptance of an order, automatically creates the project, with these workflows and durations that you have set.
In short, we at iQcom see Axelor as a leader in business solutions in the near future. And that's why we now offer it as a SaaS service in a "Private Virtual Environement".
As the deployment of an Axelor environment server, consisting of the Java Application Framework, SDK Framework, Tomcat Server, Proxy (also Multi-dependency) and the Postqre Server is quite complex, iQcom offers for Axelor partners as well as Axelor customers, coupled with our deep know-how how to deploy software solutions as private cloud SaaS services, complete packages automated, and for developers of Axelor solutions, we additionally offer the connection and automation with Gitlab Server or Github accounts.
Of course also demo versions, analytical consultations but no software customizations. Smaller adaptations for the technically inexperienced, such as the adaptation of print forms and notifications, we offer as a package service, for everything else we will put you in touch with an Axelor software partner in your area. Because Axelor's partners are also growing internationally. A sign on the market that the solution is also perceived by the software developers as an opportunity.
Even we have internal Software Developers, in the Field of Business Software Process Modeling, Requirement Analysis to Fullfilment, the best case is always: One Consulting Company who manage the requirement of the customer, drill it down to the language for Software Developers, and control their submits/results in the name of the Customer. That way, the customer gets exactly what he needs for his own process work flows.
The Axelor Enterprise solution provided by iQcom as a SaaS solution is optimized for the D-A-CH region, and is provided to the end customer in German, English, French and Italian as standard from the company's own data centers. So that the end customer can focus on the essentials. The management of his business data and process control. And with Axelor you really have a powerful tool. Further more, the application has also over 50 other languages in preparation.
But Translation of such a comprehensive Solution, we are talking about 25'000 Data Records, with multiple lines, placeholders, is not an easy task and requires Peoples who worked for many years in that industry. One small mistake can lead the system automation or configuration to the opposite, than you expected...
More about Axelor, our SaaS offer for Axelor and a demo version can be found here:
Once per quarter we will also offer two webinars on Axelor for free on our webinar page. One as a general overview in 45 minutes length and the other interactive according to topics of the interested participants Axelor more in depth present, in a time frame of 60 minutes.